Mike Becvar's Projects
I have been surfing the web and developing content since the mid 1990's. I remember the time before Internet Explorer and Netscape when surfing the Internet was limited to Gopher, telnet, and FTP. It is amazing how much the times have changed.
JavaScript Yahtzee

A few years ago, I decided it was time to learn JavaScript. I read a few chapters in a book on JavaScript, but was finding it hard to keep interested in the examples. After a few days, I decided to put the book aside and see if I could come up with an example of my own. I don't know where I got the idea to create a web version of the classic Yahtzee, but it was my first complex JavaScript/CSS project. It still works just fine.

Feel free to give it a try and play a few games. Mike's JavaScript Yahtzee Game

Sir Bud Productions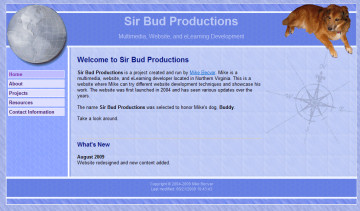 I have a website dedicated to multimedia, website and eLearning projects that I am working on. The website's name "Sir Bud" comes from my first dog Buddy who passed away in 2009. The website includes links to several more of my projects.

Visit Sir Bud Productions (http://www.sirbudproductions.com/).

Becvar.net - Home of the Becvar Family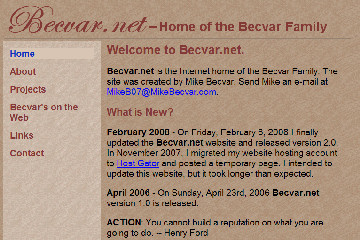 I created and maintain the Becvar.net website. It has links to some of the Becvar's that I have found on the Internet. Like the Sir Bud Productions website, it is still in development.

Visit Becvar.net (http://www.becvar.net/).

SirToonyVanDukes.com - Home of Sir Toony Van Dukes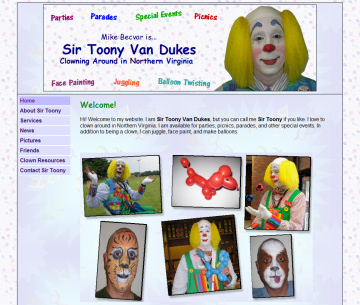 I created and maintain the website of Sir Toony Van Dukes the Clown. In 2008, I became a clown and attended Moose Camp. This was my first experience as a clown. Since then, I have continued my journey. I am also an active member of the Clown Forum. Sir Toony is my whiteface clown.

Visit Sir Toony's Website (http://www.SirToonyVanDukes.com/).

OperaGuildNoVa.org - Opera Guild of Northern Virginia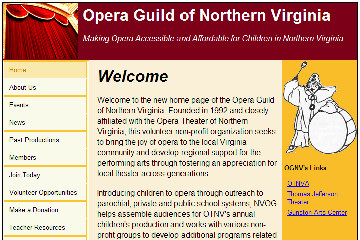 I am the new webmaster for the Opera Guild of Northern Virginia (OGNV). The Opera Guild introduces children to opera through outreach to parochial, private and public school systems, OGNV helps assemble audiences for the Opera Theatre of Northern Virginia's annual children's production and works with various non-profit groups to develop additional programs related to bringing underprivileged, elderly and new immigrants into the community via a universal appreciation for the arts.

Visit the Opera Guild of Northern Virginia (http://www.operaguildnova.org/).

TheClownNetwork.com - The Clown Network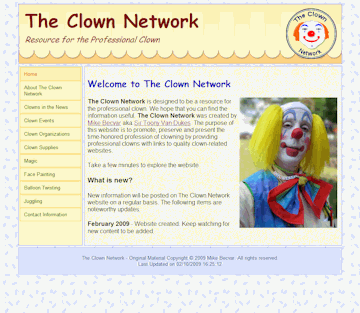 In February 2009, I started a new website project that I call The Clown Network. The website is designed to be a resource for professional clowns by providing links to clown organizations, conferences, camps, and suppliers. It will also have information on related areas including magic, face painting, balloon twisting, and juggling.

In addition to making this a website for clowns, I hope to use it as a way to learn PHP and MySQL. I think that using a database will greatly facility keeping the content on the website current. Visit The Clown Network (http://www.TheClownNetwork.com/).